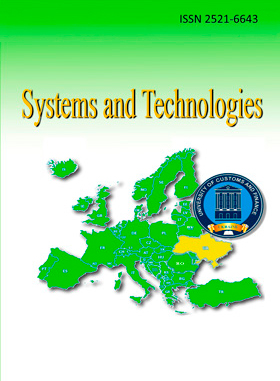 Dear colleagues!
We are glad to welcome you to the pages of "Systems and Technologies" (B category).
"Systems and Technologies" is a scientific and practical journal on technical sciences established in 1999 by the University of Customs and Finance. The journal is a legal successor of the Bulletin of the Academy of Customs Service of Ukraine. Series "Technical Sciences".
Certificate of the state registration of a print media: КВ № 21857-11757 ПР dated 21.12.2015.
Field of study: technical sciences
Professional registration (B category) allows for publishing dissertation findings for obtaining scientific degrees in Technical Sciences in the following specialties:
Journal account in the register of professional journals of Ukraine. Systems and Technologies
ISSN: 2521-6643 (print)
Vernadsky National Library of Ukraine: Systems and Technologies
Google Scholar: Systems and Technologies
The journal is included in the international scientific base Index Copernicus International (Republic of Poland)
Frequency: bi-annually
Language: Ukrainian, English
Official web-site: https://st.umsf.in.ua
The peer-reviewed journal "Systems and Technologies" aims to contribute to the development of domestic scientific potential by creating a space for high-quality open communication between scientists, including disseminating outcomes of their activities among domestic and world scientific communities and official recognition of scholarly publications.
The journal publishes scientific, review, and scientific-methodological papers devoted to the mathematical modelling of transport systems and information technologies; improving the efficiency of transport enterprises; development of modern information technologies; advancement of complex special-purpose IT systems; interaction of individual chains of transport-logistic systems, etc.
The journal "Systems and Technologies" unites prominent scientists and practitioners in applied mathematics, transport technologies, international logistics, computer and military sciences, computer engineering, telecommunications and radio technics, etc.
The editorial board carries out internal and/or external peer-review of all articles. It consists of leading Ukrainian and foreign specialists. The journal team cooperates with top HEIs of Ukraine and abroad, state authorities and local self-government bodies, top-notch transport-logistic organizations and IT companies, customs agencies, military units and the cyber-security department of the National Police.
We are looking forward to creative cooperation!